After farmers, govt now going after workers, says Rahul criticising labour code bills | India News
NEW DELHI: Congress on Thursday slammed the Modi government over the three labour code bills passed by Parliament this week with Congress MP Rahul Gandhi alleging that after farmers, the government was now going after workers.
Parliament on Wednesday approved three key labour bills which the government has pitched as long-pending reforms in labour laws. However, the clause that allows companies to wind up firms with up to 300 workers and retrench them without government permission has come in for sharp criticism by the Congress.
On Thursday, both Rahul Gandhi and party general secretary Priyanka Gandhi Vadra criticised the government on the bills. "After farmers, workers have been targeted, Exploitation of the poor, nurturing of 'friends', This is Modi ji's rule," Rahul Gandhi said in a three-line verse in Hindi.
Later, Rahul Gandhi also criticised PM Modi's interaction with fitness experts and influencers on the anniversary of Fit India Movement. "Modi government's priorities — Instead of talking to farmers and workers to find a solution to their problems, busy in PR," he said.
Priyanka, who tweeted in Hindi, on the other hand, questioned the government's priorities and said the need of the hour at this difficult time is to ensure that everyone's livelihood is protected.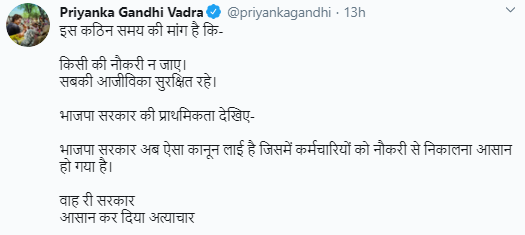 "Look at the BJP government's priority — The BJP government has brought in a law that will make it easier to remove employees from their jobs," she said, adding that the government has made it easier to commit "atrocities".
The government, on the other hand, clarified that the labour laws were a step towards greater ease of doing business in India, apart from offering a wider social security net to all classes of workers in the country.