bharatpe: BharatPe launches BharatX 'to incubate radical ideas'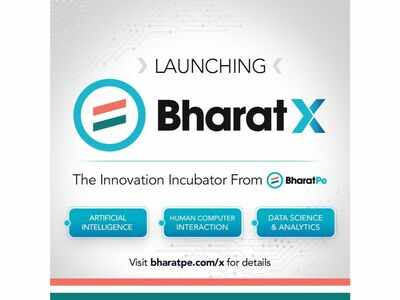 New Delhi, June 30, 2020: Merchant payment and lending network company BharatPe has announced the launch of BharatX. It aims at development and experimentation of radical ideas to solve the merchant and business problems with product solutions, as per the company.
BharatX will start with building the next generation fintech solution to bring financial inclusion to over 60 million small and medium-sized businesses in India, said the company in a statement.
BharatX will work in the fields of Artificial Intelligence, Human-Computer Interaction, Econometrics, Data Science, etc. to build new products.
"BharatX will truly rewire the DNA in financial services, by going beyond the current ecosystem. BharatX will create a multi-disciplinary environment that combines innovation, creativity, and technology to rapidly prototype and experiment with new ideas and business models to create and deliver the next generation of products for the ubiquitous merchants," said Ankur Jain, Chief Product Officer, BharatPe.
BharatX has opened the BH1 2020 internship program. The company said that it is inviting students to get exposure to problems of Bharat – the real India.
The interns will get Rs 100,000 per month as a stipend.